Did you know that in Arizona you cannot run more than 50W on 440 MHz (the 70cm band)?
Chances are, you didn't.
I didn't know either until about 8 months ago.
Running more that 50W on the 70cm band (where your favorite 440 repeaters are) puts you out of compliance with the FCC and Federal regulations with the US Army.   Not a situation you really want to get into.
Fifty watts?  Really Jay?  That isn't a lot of power.
Where did you get this information from?

Pour a cup of coffee and dig in, here is some reading for you...
I found this information in a revised Footnote of US Title 47 in Section 2.106 of the Code of Federal Regulations, further expanding the 50 W maximum output power restriction in place for the 420-450 MHz band in the US Southwest.  There are also several states / regions of states in New England that have to comply with this regulation.
In conversing with several hams here in Arizona, this regulation has been in effect for quite a while – one mentioning at least 43 years! (Thanks Gary!)
(The applicable Part 97 Amateur Service rule is §97.303, which incorporates §2.106 by reference.)
Exceptions to the power limit must be expressly authorized by the FCC after mutual agreement, on a case-by-case basis, between the FCC District Director in the applicable district and the Military Area Frequency Coordinator at the applicable military base."
So digging into CR-2002, Title 47 Vol 1. Sec 2.106 (linked if you want some light reading..) I found this.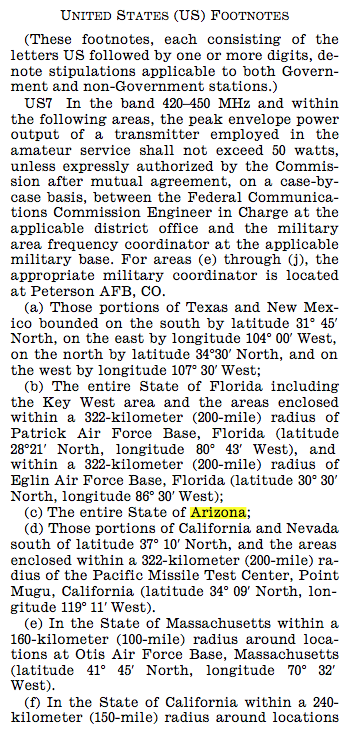 UNITED STATES (US) FOOTNOTES
(These footnotes, each consisting of the letters US followed by one or more digits, denote stipulations applicable to both Government and non-Government stations.)
US7 In the band 420–450 MHz and within the following areas, the peak envelope power output of a transmitter employed in the amateur service shall not exceed 50 watts, unless expressly authorized by the Commission after mutual agreement, on a case-by- case basis, between the Federal Communications Commission Engineer in Charge at the applicable district office and the military area frequency coordinator at the applicable military base. For areas (e) through (j), the appropriate military coordinator is located at Peterson AFB, CO.
(a) Those portions of Texas and New Mex- ico bounded on the south by latitude 31° 45′ North, on the east by longitude 104° 00′ West, on the north by latitude 34°30′ North, and on the west by longitude 107° 30′ West;
(b) The entire State of Florida including the Key West area and the areas enclosed within a 322-kilometer (200-mile) radius of Patrick Air Force Base, Florida (latitude 28°21′ North, longitude 80° 43′ West), and within a 322-kilometer (200-mile) radius of Eglin Air Force Base, Florida (latitude 30° 30′ North, longitude 86° 30′ West);
(c) The entire State of Arizona;
(d) Those portions of California and Nevada south of latitude 37° 10′ North, and the areas enclosed within a 322-kilometer (200-mile) ra- dius of the Pacific Missile Test Center, Point Mugu, California (latitude 34° 09′ North, lon- gitude 119° 11′ West).
OK! Well – shucks… what if I want to run higher power?
How do I get permission for that?
I too was asking this question, as I want to run Earth Moon Earth (EME) communications on 432 MHz.  EME is usually a "all knobs to the right" mode, running 1500W for "competitive" stations, and as a minimum to hear echos on the moon:  500W.  Less that 50W on EME will not work, even with very high gain (21 db) antennas.
I reached out to the local VHF community and asked about the regulation.  I was lucky enough to have Steve, KJ7OG – reply to me, confirming that there is in fact this regulation and yes we had to comply with it.
BUT…. There is a process to getting an exemption!
Obtaining an Exemption to run Higher Power on 70cm
Before you begin:
Determine EXACTLY what you want to do on 70 cm that requires the need for higher power.
Determine the EXACT location that you will want to engage in this activity. (Home address, or remote address)
Determine the power level you want to be able to utilize. (In my discussions I heard that to the issuing authority, (US Army) 500W was an easier exemption to process than 1000 or 1500W, so I just went with 500W for my EME exemption.)
Determine the gain in Db (not Dbi) of what you antenna system you will be using on 70cm. (I used 21 db for my EME array)
Determine what direction you will be emanating a signal (again for my EME application: "East, South to the West, following the path of the moon")
Determine the time of day that you will be engaging in this activity
Determine the modes that you will be using (FM, SSB, CW, two tone /multi tone digital)
Determine your "Kill Switch" notification method.  As in, how can someone reach you if you are causing interference that will then trigger an immediate stoppage of activity (Cell phone #)
Once you think all these points through, it is then a matter documenting all of this in some sort of coherent plan.
Based on the work of Steve Bell KJ7OG in Tucson, and  Jerry Mulchin, N7EME in Prescott, this exemption template was created and successfully implemented by both of them.
Here is an Arizona 70cm Exemption Template (Word file). I adapted it with my info and also was granted an exemption.  Three for three!
Put in all your own pertinent details save it, print a few copies and put one in a envelope.  Be specific, but don't box yourself into a corner; such as for my EME exemption,
"I will be engaging in this behavior at any time the moon is above the horizon here in Arizona."
Not
"9:14 PM to 6:32 AM", as that could lead you into non compliance if you are a minute early or late.  Be general – but specific enough to cover your requirements.
Next: Where do I send it?
The FCC is a massive entity, and you don't want your application to get stuck on some desk for weeks.
The proper address for us here in Arizona is covered via Region Three.
All correspondence should be in the form of a letter, addressed to:
Mr. Lark Hadley,
Regional Director Region 3
Interstate Office Park
445 12th Street SW, Washington DC 20554
Email: lark.hadley@fcc.gov
What will happen is that the FCC will coordinate with:
DOD AREA FREQUENCY COORDINATOR – ARIZONA
FORT HUACHUCA AZ
Do NOT send anything to Fort Huachuca directly.  Send the exemption request JUST to the FCC.  That is the proper pathway to follow.
Fort Huachuca will establish any restrictions or issues with your exemption request.  From what I have seen, the closer to the border with Mexico (and the base) you are, the greater chance you will have some restrictions, due to the proximity to the base and operations of the base.  To my ham friends in Tuscon, or Yuma you might have to deal with some restrictions.  For me, up in San Tan Valley – no additional restrictions as long as I operate with in the scope of my proposal.
BONUS: A real good thing for us, Lark is a ham!  Call sign: KA4A
When I received my approval he made a point to share that with me.  There might be some grease there in the processing speed because of this relationship – it does not hurt that he is a ham!
The turn around for my application took about 3 months, and I enjoyed a great conversation with Lark about EME when he called me to let me know my exemption was approved.  Steve told me it took about 5 months for his.
He seemed real interested in the mode and excited to hear that folks were engaging in such pursuits.
Good luck on your proposal!
Like what you see here?  Want to read more?
Subscribe to my blog and get email updates when I add to it!
Don't worry, I don't sell or market your info- just make it easier for you to get my latest caffeinated brain dumps!