On July 11th, the world was introduced to the public beta of the WSJT-X software version 1.8 which included the release of the new mode:  FT8.
The WSJT Development Group is pleased to announce a candidate release of WSJT-X Version 1.8.0. This is a beta release, already tested in the field by around 160 alpha-test users. A short list of new features and capabilities (including the new FT8 and FreqCal modes) can be found in the Release Notes:
http://www.physics.princeton.edu/pulsar/K1JT/Release_Notes_1.8.0.txt

After any reported problems with this beta release have been addressed, Version 1.8.0 will become the standard "General Availability" release of WSJT-X.

Installation packages for Windows, Linux, OS X, and Raspbian Jessie can
be downloaded from the WSJT web site:
http://physics.princeton.edu/pulsar/K1JT/wsjtx.html

A detailed log of program changes since v1.7.0 is available here:
http://physics.princeton.edu/pulsar/K1JT/wsjtx-1.8.0.log

Upgrading from version 1.4 or later will be seamless. There is no need to uninstall a previous version or to move any files.

Please report any problems you find with this beta release to one of these email lists: wsjt-devel@lists.sourceforge.net wsjtgroup@yahoogroups.com . For both lists you will need to be a subscriber in order to post there.

— 73 from Joe, K1JT, for the WSJT Development Group
If you are familiar with JT65 or JT9, you know that these are weak signal digital modes.  As in pulling out stations that are -20 db into the noise weak signal.  The advent of this technology and software has allowed for the explosion of smaller EME station to get on the air and start working folks, where before, their signal strength was not loud enough to be heard by your ears.
One of the issues that was present in the JT software is the long transmit and receive cycles.  48 seconds of transmit, followed by a 12 second decode window, followed by 48 seconds of receive, followed by a 12 second decode window.. etc.  The fastest most qsos would be completed was 4 min. On HF, it provides for a very casual operating speed.  On VHF, especially 6 meters, it was a new tool to try to work new stations that otherwise you could not detect – however, there was one major issue, the time it takes to complete a qso.  For anyone who has spent time on VHF such as 6 meters, you know that Sporadic E's can come and go in waves.  Be strong for 2 minutes and then gone for days.    Or, you could get the right conditions and work stations for hours – it all depending on how the E cloud was working for you.  Many, many, many JT65 and JT9 qsos, were lost due to the E skip allowing for the start of the qso, but faded out before the qso was complete.
So.. what could be done?
Enter FT8
So what is FT8?  Taken straight from the release notes of the new software:  http://physics.princeton.edu/pulsar/K1JT/Release_Notes_1.8.0.txt
Brief Description of the FT8 Protocol
————————————-

WSJT-X Version 1.8.0 includes a new mode called FT8, developed by K9AN
and K1JT. The mode name "FT8" stands for "Franke and Taylor, 8-FSK modulation". FT8 uses 15-second T/R sequences, provides 50% or better decoding probability down to -20 dB on an AWGN channel, and maintains good performance on Doppler-spread fading channels. An auto-sequencing facility includes an option to respond automatically to the first decoded reply to your CQ.

FT8 QSOs are 4 times faster than those made with JT65 or JT9. FT8 is an excellent mode for HF DXing and for situations like multi-hop E_s on 6 meters, where deep QSB may make fast and reliable completion of QSOs desirable.

Some important characteristics of FT8:

– T/R sequence length: 15 s
– Message length: 75 bits + 12-bit CRC
– FEC code: LDPC(174,87)
– Modulation: 8-FSK, tone spacing 6.25 Hz
– Constant-envelope waveform
– Occupied bandwidth: 50 Hz
– Synchronization: 7×7 Costas arrays at start, middle, and end
– Transmission duration: 79*1920/12000 = 12.64 s
– Decoding threshold: -20 dB; several dB lower with AP decoding
– Multi-decoder finds and decodes all FT8 signals in passband
– Optional auto-sequencing and auto-reply to a CQ response
– Operational behavior similar to JT9, JT65

We plan to implement signal subtraction, two-pass decoding, and use of a priori (AP) information in the decoder. These features are not yet activated in v1.8.0.
FT8 is awesome and truly an advancement in technology.  Yes, it relies on a computer.  Yes, it auto sequences.. but to have access to the technology that makes this all happen, with minimal doppler shift –  all in a 15 second TX/RX window – freaking super cool.
In a recent WSJT list email exchange:
I'm just curious what are the frequency stability requirements for FT8 ? (The documentation refers to the mode maintaining good performance on Doppler-spread fading channels.)

The reason for my question is regarding potentially running this mode on 144 MHz and up.
_ _ _ _
FT8 uses tone spacing of 6.25 Hz and noncoherent demodulation. Thus, frequency drift of (say) 3 Hz over 15 s will not degrade sensitivity noticeably.

For comparison, JT65B has tone spacing 5.38 Hz and transmissions about 3 times as long. So its stability requirements are somewhat greater.
JT65B is widely used for EME at 144 and 432 MHz.
I spent some time in the recent summer CQ WW VHF contest, and for the first time in a VHF contest I never touched a mic.  I wanted to see what FT8 could do on 6 meters.  Using Beta software that was only 8 days old – I snagged close to 70 stations all of the United States and Canada.  I was totally blown away by the number of stations that jumped to this mode.  Running anywhere from 20 – 80W on my end, to a 3 element beam at 20′ fixed pointing east right towards a very RF noisy elementary and high school.
Out of all of the activity that I heard I think I might have only missed 5-6 stations that I could see calling me, but I was too weak for them to decode.   Where I have seen decodes on JT65 down to -27 (on HF working some Russian stations)  I never saw anything lower than -18 on FT8.   The developer list claims -20 db ability,  which is significantly less than -27 on JT65, but only having a 15 second TX window more than makes up for it in my book.
Here are some of my screen shots from the activity on the bands.  (This was 20 and 40 meters, 7-15-17, again with 5 day old BETA software).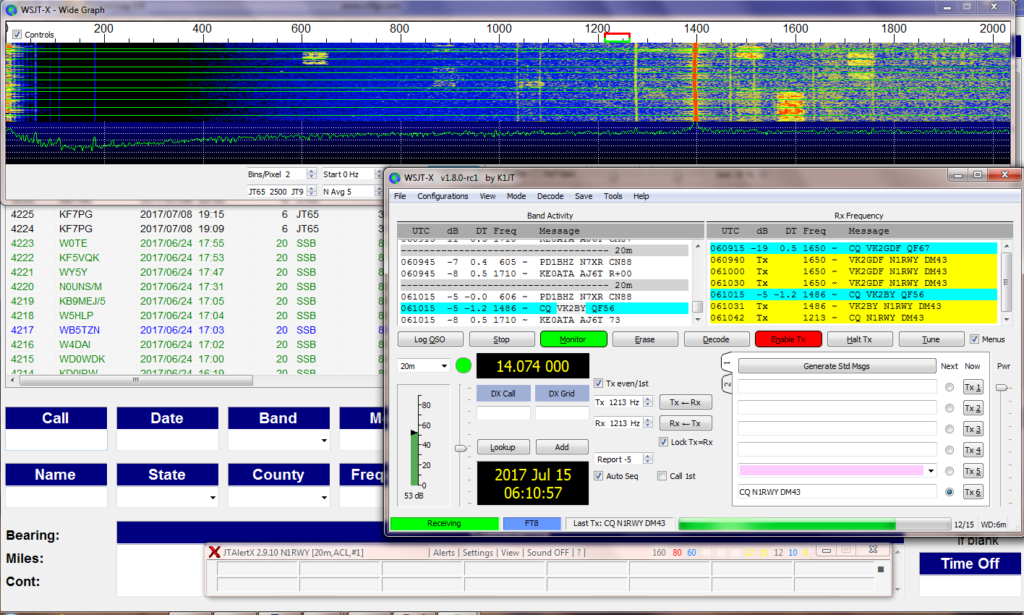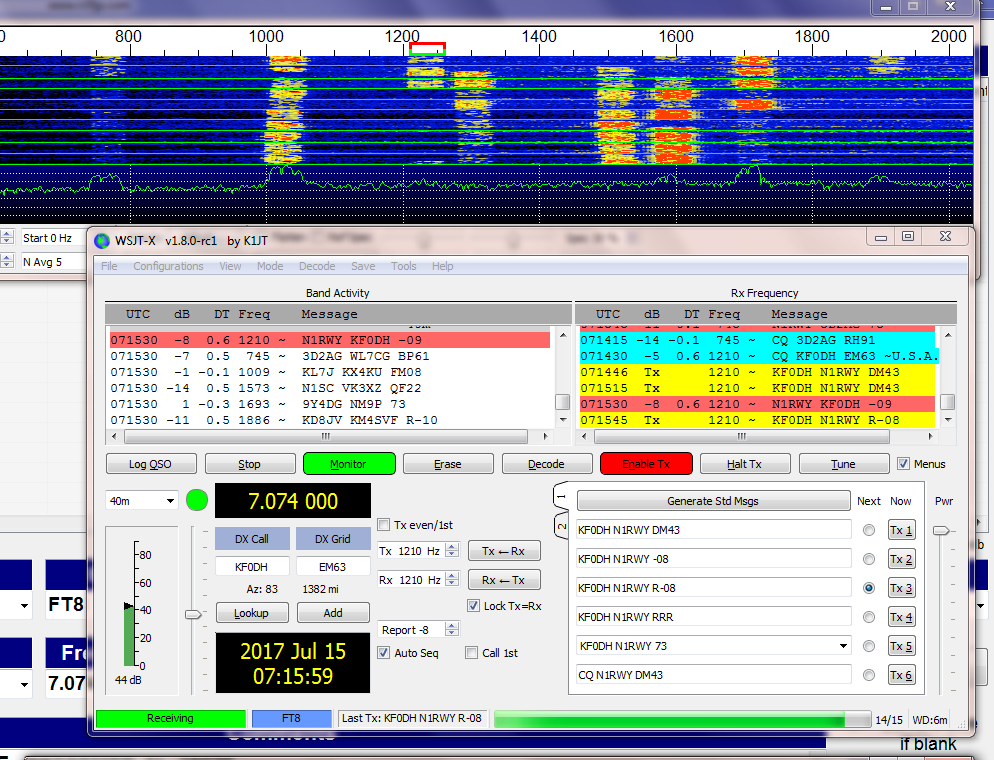 Super fun!
Here are some YouTube links of others working stations on FT8.
John mentions the test mode, as this was still in the pre-release beta of the software.   A great intro video.
Here is another done by Lee, using his Flex 6700 and FT8. (With signal audio tones – so you can hear what it sounds like)
All in all, if you like what JT65 has to offer, you will really enjoy JT8, it is a great addition to the software line up, especially for us chasing stations on VHF.
Hope to hear you on the bands!
Subscribe to my blog and get email updates when I add to it!
Don't worry, I don't sell or market your info- just make it easier for you to get my latest caffeinated brain dumps!