Recently I have been giving a few presentations on WSJT software and the FT8 mode and I always get asked about the importance of time and syncing your computer clock.   Those of you that are using any of the WSJT software know the importance of an accurate computer clock, as the clock determines your transmit and receive cycles.  If your clock is off, you miss decodes, or are not transmitting in the proper cycle time frame.   Which all means… you will not work anyone, or worse, mess with other QSOs in process.
Following several different discussion groups online, I found a few different options when it comes to managing time on your computer.
Use software to connect to an internet time server and let the internet connection manage your time.
Use a GPS to deliver time to your computer.
Try to sync with WWV manually, (which IS possible, but not realistic if your computer clock drifts a lot).
Option 1 has several different software choices to pick from:
Each have their own pros and cons.
Many folks out there "poo-poo" Dimension 4, saying that it is outdated. but it works fine on my Windows XP and 7 systems without issues.  I had set mine to auto update every 5 min and I don't have issues with it.
Others swear by Meinberg as it runs as a service and you don't have to think about adjusting it.  Just install it and let it go.
One comparison I recently heard between Meinbery and Dimension 4 was:
"Meinberg gently massages the computer clock to keep it in sync, and Dimension 4 slaps it upside the head at a set schedule to get it back on track."
Either of them work.
My internet connection in the shack is iffy (at the moment) so that was the push I needed to go for the GPS sync option for the computer. I always wanted to try it, and this was the push I needed.    A while ago I had spoken with Jim, N4ST, who posted in the WSJT group and he shared the following with me:
It is an "External GPS Antenna Vk-162 for Stratux Remote Mount USB GPS"

https://www.ebay.com/itm/282360083481

It drove me nuts because the eBay description makes it sound like you are buying an antenna.

 
If you get it, be sure and install the ublox drivers before you plug it in to your computer or Windows 10 will grab it and install the device as a "Location Sensor", which sounds good, but it doesn't work with most available software.  This will create a virtual com port for the USB device.

https://www.u-blox.com/sites/default/files/ubloxGnss_vcpDeviceDriver_windows_3264_v3.03.exe

I use NMEATime2 software from Visual GPS ($20.48), there may be others that work just as well and are free.

http://visualgps.net/index.html
______________

73,

Jim – N4ST
So, I dropped the $20 for the USB GPS antenna and had it at the house in a few days.   My shack machine is Windows 7, but I decided on running the driver Jim mentioned anyway, which loaded without a hitch and gave me a comport of COM16 for the GPS.
NEW 3/2022!
Amazon link for the VK-163 G-Mouse USB GPS Dongle.
I then went to the visualgps.net website and didn't download the NMEATime2 software as Jim did, but downloaded the software called VisualGPSView.
http://visualgps.net/index.html#visualgpsview-content
It is free software and allowed me to check the connection on the GPS.   Loading the software, selecting COM16 and 4800 baud, I could see GPS data flowing on to the screen, as well as signal strength from the various GPS satellites.
COOL!
Now I know that I have GPS data flowing into the computer, I needed a program to capture it and adjust my computer clock.
This is where BktTimeSync
http://www.maniaradio.it/en/bkttimesync.html came into play.
BktTimeSync is free software produced by IZ2BKT, and is designed to work with both internet time servers, as well as external GPS devices.

SWEET!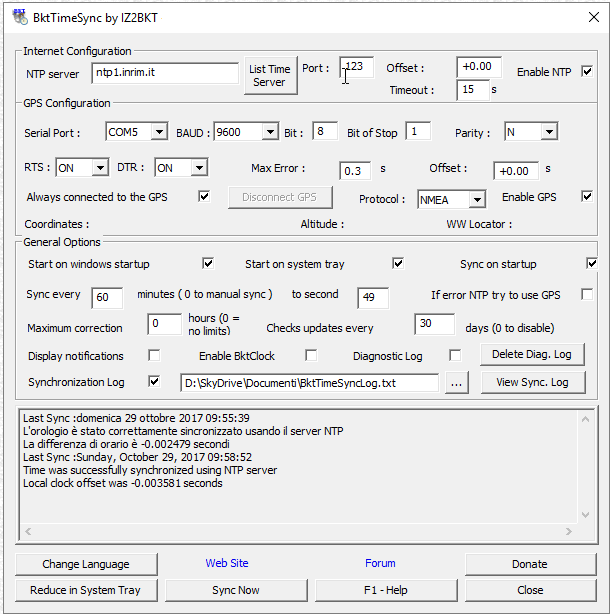 This screen shot is taken right from the website, where you can see you can select either an internet time server, or GPS or both.
I decided to turn off the internet time server by unchecking the checkbox next to "Enable NTP" and put a check in the Enable GPS check box.   I set the configuration to COM16 for the GPS section of the screen and 4800 BAUD, leaving the rest of the settings alone.
I pressed the "SYNC Now" button and the clock updated to within .1 seconds of the actual time.
Awesome!
Then I noticed that my coordinates, altitude, and WW locator (grid square) were also populated in the software.  Yep!  The GPS was importing data into the software.  Working as it should.
You can have yours set to sync every 60 min or sooner.. Mine is set for every 10 minutes as my computer clock always strays.  You can set the options as you want.
So – If you are looking to get GPS time sync setup on your computer, or setup for your portable use, this combination works well, and is cheap needing only a few different software titles, a driver install and the $20 USB GPS.
I have had mine running for 2 days now, and never more than .1 second off the actual time, and most of the time, it is around .04 seconds of correction.  This is with the GPS just sitting on the east facing window sill.
Thanks  Jim!
73 all – DE N1RWY