UPDATED 6/9/2020 
Ok,
Some of you might might be new to digital communications on the ham bands, so let me start from the beginning.
Hams who are running PSK31 or JT65 or FT8/4 or some other digital mode are using a computer connected to an audio interface that is then connected to the radio.
The software on the computer generates audio that goes from the computer sound card to the radio as well as from the radio to the sound card.
COMPUTER <–>INTERFACE <–>RADIO
There are several different types of interface devices that you can purchase to make this connection. Buxcom, West Mountain Radio, Signalink, and even MFJ is getting into the market with their own audio device. I have tried the Buxcom, the West Mountain Radio (The M8, yeah.. a while ago!) as well at the Signalink.
However!
This post is about setting up digital communications with the FT-991/991a, with only a USB cable. No external device required.
Yes folks, it is true. CAT control as well as PTT via one USB cable from the computer to the radio.
SWEET!
No USB to Serial converter needed, so additional interface boxes – just a USB cable (*Note, see farther down in the post as to which cable you want to purchase. Not all cables are made the same!)

The FT-991 comes with a built in sound card. Some say it is the same sound card that is in the Yaesu SCU-17, Yaesu's equivalent of the Signalink device.  However, the FT-991 also do FSK RTTY as well as CW, (with its built in sound card) something that the Signalink cannot do.
"So, the FT-991 has a built in sound card. Neat Jay.. do I just connect a USB cable and go?"
Not quite cowboy, you have to take a minute (or in my case about 40) and do some research, find the right directions online and then follow them to make sure everything is setup properly.  The FT-991 packs a TON of features, and this can be confusing.
In this blog post, I did the research for you, and once you get all the software loaded, the right boxes selected and menu items changed it works!
So lets dive in here and get to it.
SET UP for the FT-991 using the internal sound card
(These directions are based on a Win 7 OS.  I have been told that in Win 8 and W10, you do NOT have to install the drivers first, but I think it is good practice to install the drivers before connecting the radio. To be safe, always install the driver before connecting the radio to the computer.)
Step 1. Read this post from start to finish
Step 2. Read it again
Step 3. Follow the steps below and do them in order
Step 4. If something isn't working, revert to step 1
A. Do not connect a USB cable from your computer to the FT-991 until you load the drivers listed below. (See my comments above).
B. Go to the Yaesu web site and download the drivers for the FT-991.  The drivers you are looking for are the: FT-991/ SCU-17 USB Driver (Virtual COM Port Driver)  (3.74 MB). 
Some users might have a USB to serial converter based on the
chips (Prolific, FTDI).  These drivers will not work with the 991/991a.  You need to download and install the Yaesu drivers.

Download the FT-991/ SCU-17 USB Driver (Virtual COM Port Driver) and follow the directions to install them on your computer. (Just follow the prompts of the software during install and you will be fine.)
What will happen is that you will end up installing:
TWO (2) COM ports.
One is an ENHANCED COM port (in my case COM 4)
the other is a Standard COM port (in my case COM 5)
Now that you have installed the drivers, now you can connect a USB cable from the PC to the 991.  You might even hear the PC making some system beep noises as it realizes that it has been connected to an external USB device (the radio).
With the 991 connected you can check that these COM ports were installed on your machine by going to Control Panel, then Device Manager, and look under the "Ports (COM & LTP)" drop down.  You should see two newly added ports:
Silicon Labs Dual CP210x USB to UART Bridge: Enhanced COM Port (COM 4) (<–OR SOME OTHER NUMBER)
Silicon Labs Dual CP210x USB to UART Bridge: Standard COM Port (COM 5) (<–OR SOME OTHER NUMBER)
Again, your new ports might be numbered 3 and 4, or 6 and 7, or some other combination.  The key is that there are TWO of them, one is labeled Enhanced, the other Standard.
Note:  These ports will not show up unless you have the 991/991a connected to the computer via the USB cable.

I recommend the Triplite USB 2.0 Hi-Speed A/B Cable with Ferrite Chokes (M/M), 3-ft.  cable for the connection to the radio from the computer.  Other cables do not have the ferrite or may not have the shielding that you need to have within the cable.   MANY errors that show up with software crashing or Hamlib pop up errors, or folks crashing software when on 40m or high power on 20m are due to the cheap USB cables without shielding out there.  Get a quality cable and be done with it.    Lack of grounding and RFI issues are quick to present themselves when using digital modes.  If your keyboard starts to lock up, or your mouse, or the software starts acting sluggish.. check your grounding and address RFI issues.
** NOTE! **
If you have different radios that you are connecting to the same laptop for digital (in my case, a FTDX1200 and the FT-991), PAY ATTENTION to the different COM ports that are assigned and make sure your are using the correct "pair" of  standard and enhanced ports.
Know what you have installed.
Check them in the System Properties!
Once the drivers are loaded, it is a matter of getting the digital software that you want installed and setting it up to talk with the USB port on your laptop.
Remember:
USB drivers (Win 7) HAVE TO BE installed first.
DON'T SKIP THIS.
If you do not install the driver first, NONE of this will work.
Just stop reading now.  Stop reading and install the driver from the Yaesu site.  Here is the link again.   Once that is done, then move forward to the next step.
Yaesu FT-991 MENU SETUP:
(If you have a 991(A), your menu numbers will be slightly off, just go by the menu name)

DO this before trying to configure the WSJT-X  or any other software on the computer.
These are the MENU settings that I changed from the default values.
031 CAT RATE 4800 (or faster – just make sure the software and radio match the same CAT RATE many are using the fastest "38XXX" vale.  I use 4800 and it works fine.)
032 CAT TOT 100ms
033 CAT ENABLE
062 Data Mode  OTHERS  (NOT PSK – change to OTHERS)
064 OTHER DISP (SSB) = 1500 Hz
065 OTHER SHIFT (SSB) = 1500 Hz
066 DATA LCUT FRED = OFF
068 DATA HCUT FREQ = OFF
070 DATA IN SELECT = REAR
071 DATA PTT SELECT = RTS
072 DATA PORT SELECT = USB
Yaesu FT-991 Screen settings:
These are the settings on the main screen of the FT-991 that I adjusted.
MODE:  DATA-USB  (NOT USB), choose the DATA-USB setting.
WIDTH: 2400 or 3000
METER: ALC (I use an external meter to watch RF power out)
RF PWR: 8-50w  start low and work up.
WIDTH: 3000
NAR/WIDE: W 3000
DT Gain:  6   *** IMPORTANT ***
The DT Gain defaults to 50!   This will overdrive the rigs modulator which will cause unwanted audio harmonics.  Not good.  Turn the DT Gain setting down to about 4, and start working your way back up, watching for ALC on the meter as well as the power out that you want.  As you move the DT Gain setting back up (higher), you will see your power level increase as well as ALC levels.  Find the happy medium of a little  ALC showing on the radio meter. There should be a range on your radio display that shows acceptable ALC.   Excessive ALC indication is a sign that the audio drive is too high and distortion is most likely happening.
---
A bit more information on ALC and digital modes:
This came from Bill Somerville (SK WSJTX developer) about adjustment of ALC:
A lot of the information given about transmitter ALC indication is worse than useless. You must first understand what the ALC indication on your rig means. It is normally a measure of how much gain reduction is being applied before the PA to limit the final output within required levels. Without ALC the PA could be driven beyond its intended design parameters. As such ALC indications are not harmful but there are circumstances when high values might indicate a problem. Note that on some rigs the POWER or DRIVE control is implemented with ALC so the indication may be high simply because you have reduced the transmitter output, other rigs avoid that and ALC is not skewed by power controls. So here are some things to watch for with ALC:

When using a mode that requires linear amplification, like AM, voice SSB, or PSK31, high levels of ALC may indicate compression of the output, which in turn may distort the transmitted signal. That distortion may include unwanted widening, e.g. the "splatter" often heard close in around signals using too much drive. Note that for constant envelope modes like FM, and the modes used in WSJT-X, except maybe MSK144, linear amplification is not a requirement and high ALC indication may not be any problem at all, but see below.

With narrow bandwidth constant envelope modes generated using AFSK with an SSB transmitter high ALC *may* be a sign that too much audio drive is being applied to the transmitter modulator. This is only the case when the applied audio frequencies are attenuated because they are not within the passband of the transmitters SSB Tx filter. To explain, imagine an audio tone of 3000 Hz being applied to a typical SSB transmitter with an audio passband of 200 to 2800 Hz. To get any ALC indication the audio level would have to be huge because it would be attenuated by ~40 dB (maybe more) by the Tx filter. Applying an audio signal to the rig's modulator that is 40 dB higher than necessary will inevitably cause distortion by clipping, which will result in a signal rich in unwanted audio harmonics. With the case above the audio harmonics would be above 3000 Hz so they are relatively harmless, being attenuated even more than the wanted 3000 Hz signal, but imagine the case where the tone is below 200 Hz!

So in summary, ALC is desirable so do not equate ALC indication with incorrect set up, but be aware that it may indicate a problem in some circumstances. What is essential is understanding how your transmitter works and the consequences of using narrow band AFSK modes with an SSB transmitter. High ALC indications may be an indication that audio drive levels are too high, OTOH audio drive levels can also be excessive and causing distortion with little or no ALC indication. Little or no ALC indication is not a panacea leading to correct setup of your transmitter.A good rule of thumb, that works with almost every transmitter when using WSJT-X, is to set the audio level using a 1500 Hz tone such that the transmitter ALC indication is within the manufacturer's "safe" zone (usually indicated by a red marking over the lower 1/3 of the meter scale). Do this with the transmitter power at maximum to avoid extra ALC indication from the transmitter power control on some rigs, also use a well matched dummy load as some rigs compensate for high VSWR by increasing ALC. With the correct setup you should achieve about 90% of the transmitter's design output at he point ALC indication starts, maximum power will be achieved as the ALC indication approaches the top of the "safe" zone. Most of the time power levels above 90% of your transmitter output are not needed so restricting ALC indication to zero is OK, but be aware that alone does not mean that you have correctly set up your system.73
Bill
G4WJS.
WSJT-X
With all the updates to the software, it is best to just get the latest release when it is available.  Running outdated versions will lack features and in some cases not allow you to work stations running the new software.  So, UPDATE the software when the new versions are out.
You can get it here:
http://physics.princeton.edu/pulsar/k1jt/wsjtx.html
Once you download it and install the software, you have to configure it to talk with the radio.
CONNECT THE USB CABLE from the computer to the FT-991 NOW.
Start the WSJT-X application.
Below are some OLDER screen shots.  They are for reference only.  The latest version of the software will have additional selections, however, the layout is similar.
Then click on [FILE] and then [SETTINGS].
Here is where you need to select the right options to connect the FT-991 to your computer.
Here is an older screen shot of what works for my setup.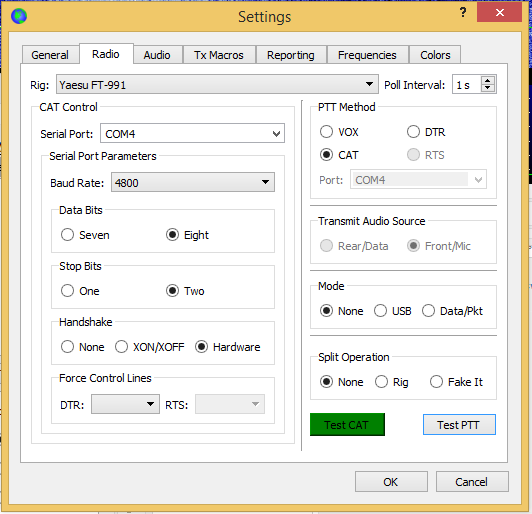 COM Port is #4, the ENHANCED PORT  (on my computer – maybe different on yours) from the drivers.
4800 baud (or faster if you desire)
8 data bits
2 stop bits
Hardware: Handshake
Poll interval: 1 second
CAT control: via COM 4
Mode: NONE
Split:  FAKE IT OR RIG  (YES, I KNOW… I have NONE selected in the image above) choose FAKE IT or RIG.
*** It is very important that you select Fake It or Rig when using the newer versions of FT8 due to the advancements in the software and the way the software operates. ***
Click on Test CAT.  It should turn GREEN.
Click on Test PTT. It should turn RED and you should see the radio switch into TX mode, (no RF out).
Supposedly all you need to do for Windows 10 is the same as I did in for Win 7/8.
Once you are done with the [RADIO] tab, click on [AUDIO].


Set WSJT-X sound card Input AND Output settings to USB Audio CODEC.
Do not select the default sound card or microphone or any other software you have in there.  You want the "USB AUDIO CODEC" as the selection.  This new audio option should populate automatically in the drop down for the input and output option, now that you connected the radio to the computer.
You DID do that before you got to this point yes?
Note: You may see USB Audio CODEC -7 or -8. (Or some other possible number)  That is fine as well.  Just select the USB AUDIO CODEC.
Set the TX level (on the far right side of the software) to the top of the scale.  Adjust the DT GAIN setting on the FT-991 so that ALC is not observed (or barely observed) on the meter on the FT-991 radio.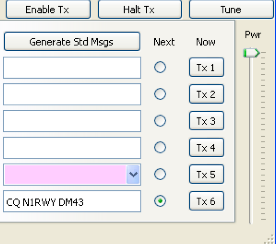 PAY ATTENTION to your ALC settings. This is done by watching the DT GAIN setting on the front panel of your FT-991 and monitoring the ALC screen (switch from PO or SWR to ALC).
2/9/2017 – THE RIGHT USB CABLE TO USE
Recently on the 991 Yahoo group there has been a lot of discussion around the proper USB cable to use with your 991 / 991A.
RF floating around and poorly made cables has made some connections intermittent and or drivers would not load.
The recommendation is to use Tripp Lite Model U023-006 USB 2.0 Gold X Cable A (Male)/B (Male) – 6 ft with two molded chokes.  Amazon Prime cable at $6.51 delivered.
I wound up using a USB cable with inline chokes that I found on Amazon. "Tripp Lite USB 2.0 Hi-Speed A/B Cable with Ferrite Chokes (m/M) 6-ft (U023-006). That solved my RF problem. - Jon  AA4JS

A follow up by Don, K0APK.
It completely got rid of my RF-induced problems. I liked it so much that I bought 5 more and replaced ALL of my USB A/B cables in the entire  house!
No more lock-ups of programs, resets, and dropping of my wireless links when I keyed the transmitter!

-Don-
K0APK

From Gary, WW8O – This is the setup for a USB cable and Singalink.
NOT using the internal sound card in the 991, but rather the external Signalink device.    Has has had this work both on wsjt-x and fldigi.
991 (or /a)  
Menu Setting:
31 38400
60 rts
62 other
63 1500
64 790
65 1500
67 6db
68 4000
69 6 db
70 rear
71 rts
72 data
73 20
108 rear
110 rts
111 usb


Additional directions can be found here:
* NOTE 991A, but should be similar with the 991 *
I was asked to share all the settings that I arrived at for successful FT-991a with Fldigi and RigCat operation.  

FT-991a (all other settings are defaults)

Menu Number  Function           Setting                  Notes

031                         CAT Rate    38400                  Must match fldigi CAT rate

032                         CAT TOT                     100 ms

036                         TX TOT                       3 min

059                         CW Freq Display       DIRECT FREQ

062                         Data Mode                   OTHERS

064                         Other Disp (SSB)               1500

065                         Other Shift (SSB)              1500

066                         Data LCUT Freq                  OFF

068                         Data HCUT Freq                  OFF

071                         Data PTT Select                 RTS

072                         Data Port Select                USB

108                         SSB PTT Select                   RTS

109                         SSB Port Select                  USB

142                         VOX Select                          DATA                     Must also turn VOX ON (M-LIST)

       
                                                         Observe D.VOX indicator is ON 
 (upper LH corner of display)

M-LIST Settings:                                                       FLDIGI Settings (Configure > Rig Control):

VOX = ON                                                               FT-991.xml file loaded

NOTCH = OFF                                                             Device = COM3 (enhanced port)

WIDTH = 3000                                                            Baud = 38400, Stop = 1, RTS/CTS flow control

RF PWR = 50

DT GAIN = 5

Hope this saves you some brain cells!!

Mark, WA0ZIG
GitHub repository of great articles on the 991.
https://github.com/rfrht/FT-991A/wiki
FT-991 Setup for VHF Winlink. (pdf)
Dan, W9SAU created a guide for using the FT-991 for Winlink on VHF.
FT-991 Setup from W6PQL (pdf)
https://www.w6pql.com/misc/wsjt-x/ft991-wsjt-x.pdf
JT65 on the FT991 YouTube tutorial
Shawn Johnson, KU0D – Video Tutorial.  (Thanks for the mention Shawn!)
FT991 Blogspot page
Getting the 991 up and running with FLDIGI.
https://ft991.blogspot.cz/2016/09/fldigi-setup-my-version-3227-win-10-com.html
FT991 CAT directions:
http://blogzs1jen.dyndns.org:83/wsjt-x-config-for-ft-991/#comment-758
FT991/991A with N1MM.  http://www.hb9amo.net/n1mm-ft991.php
HRD Support has a great set of starter directions as well as some good nuggets of information deep down in the comments.
http://tickets.hrdsoftwarellc.com/kb/faq.php?id=89
DXEngineering:
https://static.dxengineering.com/global/images/technicalarticles/ysu-ft-991.pdf
FSK controls:
http://www.dxlabsuite.com/dxlabwiki/YaesuSCU-17
My compiled list:
If you get real bored, here is some more reading for you. This was a copy and paste of various FT-991 menu settings from all over the globe, from translated German pages as well as translated Japanese blogs.  It is where I finally found the settings that worked for me.   I do not remember the links to the pages to give credit.  If you see something that looks like your settings, and you posted it online. Chances are they are yours!  Thank you for adding to the collective.
Again, I have not tested all of them, just what I found worked for me.  If what I HAVE above does not work for you, this might save you some internet searching for what others are using for settings for the FT-991 and JT65.
Jay's scoured_the_internet_for _FT_991_settings list.
Of course, if none of this works for you, or you do not want to take advantage of the internal sound card, you CAN just connect a Signalink and use that device with the FT-991 for digital communications, but why get one if you do not need it?
That money could be put towards the FH-2 remote wired keypad for the FT-991 (another great product).
OK! Now what?
Well, now that you have the radio configured, the software working, and the radio talking to the computer – download this file created by Gary, ZL2IFB.  It is great read on how to operate the WSJT-X software.
http://www.g4ifb.com/FT8_Hinson_tips_for_HF_DXers.pdf
Hope to hear your FT-991 on the bands soon!  GL OM/YL!